Florida Travel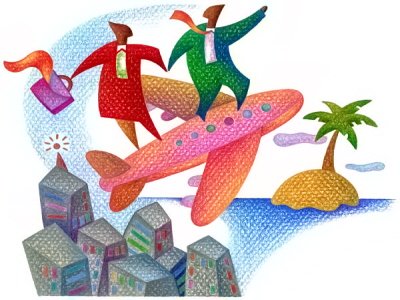 Perhaps choosing where in Florida you want to stay depends on cost. Florida travel may not be as expensive as you think, but obviously travel expenses can play a big part of your costs. So, based on either flying or driving, lets talk about how you can get here and I'll give you a few pointers that might save you some dough.


---
Airports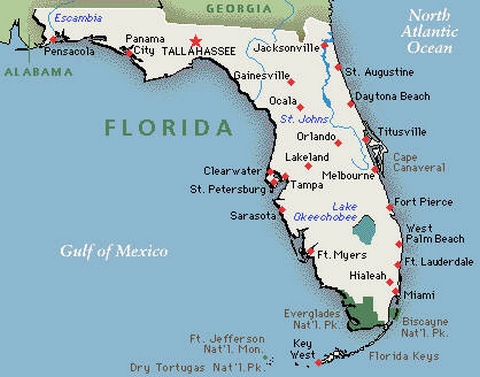 Most peoples Florida travel plans include flying here. If you are anything like me, cheap airfare is definitely a bonus. I will scour all the travel sites & airlines looking for the most discounted airfare that I can find. Over the years I have traveled a lot, so I have gotten a feel for fares in and out of several Florida airports. I have learned that the whens & the where's have a lot to do with costs.
WHEN -
Costs are almost always higher over holidays, and during the peak season (Jan-Apr), but if you look hard enough you can often find exceptions. The day of the week that you fly in & fly out on can also raise or lower prices - so, if possible be flexible and experiment with your dates, it could save you quite a bit on your Florida travel costs .
WHERE -
Look at the map above. Every one of those cities has either a regional or international airport, and there are many more airports not shown.


The 3 major international airports in Florida are Tampa, Miami, and Orlando. Within less than a 30 to 45 min drive, these airports can get you to most of the tourist destinations in Florida, as well as many great beaches known mostly to the locals. The map below is a basic map of the interstates in Florida. Just a quick glance and you can see that you have access to the entire state from these 3 airports. I found that if you plan far enough ahead, you can great deals for discounted airfares at these airports. They are great airports as well. In fact, the Tampa & Orlando airports are consistently rated as among the best in the US & the world. (Side note: Why is it that places where you will never likely get stuck, are the ones with the best airports. How about places like Detroit or Cleveland?)


Although regional airports can be harder to find a flight into, if you can find a flight that is on a smaller airline, you can often get in very inexpensively. Conversely, if you don't have a discount airline that flies to where you want to vacation, the regional airports can be expensive.


When it comes to the panhandle beaches (Panama City, Fort Walton, Pensacola, etc,.), as well as the Naples/Ft Myers beaches, you are pretty much flying into smaller airports anyway. Keep in mind though, if you just want to live at the beach for your vacation a regional airport can save you car rental fees.


---
Road Trips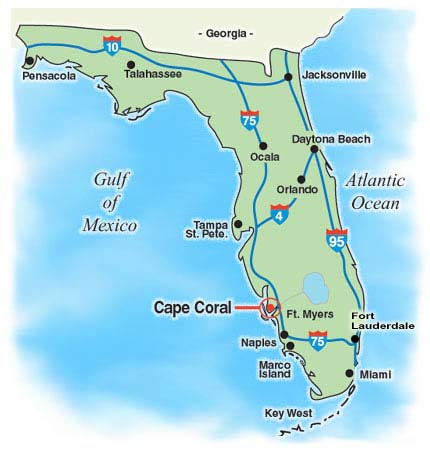 If you plan to make your Florida travel include some driving, you are in luck. I know the map above is simple, but it makes a point. If you would rather drive on your vacation (or Spring Break), or if you need to fly to 1 of the big 3 airports, getting around the state is easy. There are so many roads that you don't see that are even more helpful. For example, there is the Florida turnpike which cuts across the state from I-75 thru Orlando and ends on the southeast coast. There is also a road that goes right past the Orlando airport and drops you on Cocoa Beach (Hwy 528). Something else you don't see is that there is an interstate loop that wraps around the Tampa Bay area and brings you back onto I-75 down by Sarasota. So if you are the adventurous type, or maybe just extra cheap, driving around Florida to your favorite beaches should be a piece of cake.


One other thing that driving gets you - site seeing. There are some great things to see in Florida that are easy to do if you are driving. For example, St Augustine is the oldest city in the U.S., and if that is not enough, you can actually see the spring that Ponce De Leon said is the "Fountain of Youth". On the tip of Tampa Bay peninsula is Fort Desoto. It is an old turn of the century fort that has been turned into a state park with beaches and Picnic tables. These are just a couple of things to see. So, if you are into road trips or sightseeing, consider adding a drive to your Florida travel plans.


Here is a link to an excellent map:

Interactive Florida Road Map



Return from Florida Travel to GFVB Home