How do you find the best beach for your Florida beach vacation?
Ask A Floridian!
People often ask me about their Florida beach vacation plans. I guess they figure if you want to know about a place, it is probably a good idea to ask somebody who lives there.
Well, that's me. I grew up in Florida as a boy, and with a few breaks in between have spent over half my life here. I love living here, especially exploring all the different beaches, and vacation possibilities across the state.
All in all, many of my fondest memories take place on beaches in Florida. I love it here, and I'm happy to help you find the best beach for your vacation.
During my years away, and now that I have moved back, my friends and family up north often ask "What do you think is the best beach in Florida for a vacation?"
So, here is what I say to them …… Tell me what you want your vacation to be, and I'll give you some ideas. (Of course we always encourage a short stay with us as part of the package.)
So, since you too are looking for a great beach to have your vacation, ask yourself - What do I want my vacation to be?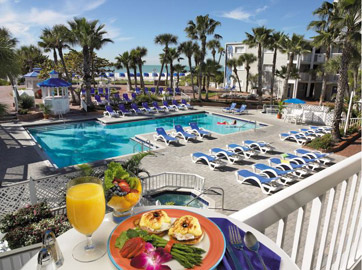 (Photo from Tradewinds Resort in St Pete Beach)
Do I want it to be ……


Whether you are looking for adventure, a serious suntan, or just lots of warm breezes and beautiful sunsets, there is a fabulous Florida beach vacation waiting for you.
Click on a link, and we'll talk about some ideas for you.
Looking for a great family beach in Florida for your next vacation? A Florida native describes the best family beaches in Florida
The best Spring Break Beaches in Florida
Visiting Orlando? Find great the Orlando beaches that are close by!
Learn how many people combine a Caribbean cruise with a visit to the Orlando attractions to create an Orlando port?
The Tampa Bay Beaches are at the heart of Florida's gulf coast. The area has some of Florida's best beaches, and are regularly rated amongst the best in the US.
The best Florida beaches for vacations, as personally recommended by a Florida native. Find the best beaches for you.
Beach vacation getaways can be found all over Florida. Let me show you where to look.
Discover the variety of Gulf Coast Resorts along some of Floridas best beaches
Finding the best airports & road directions for Florida Travel
Insight on Sunburn Prevention, and how to avoid a nasty sunburn while enjoying time on the beach.
This is a central page for all the Florida beach pictures from around the GFBV site, and some that are only available here.
Beach cams provide live views from beaches all around Florida.
The Great Florida Vacations Beach Blog keeps you up-to-date with all the additions and changes to the GFVB Web site. Subscribe here.
Here is a little bit about me at GFBV
Contact Us at Great Florida Beach Vacations
Would you like to share your knowledge about florida beach vacation? Great, find out how you can submit your story or tip here.
Copyright 2008 Great-Florida-Beach-Vacations.com