New Smyrna Beach
A Wonderful Central Florida Secret
New Smyrna Beach Weather Forecast, FL (32168)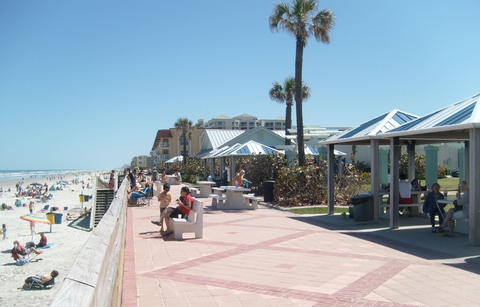 Hello from New Smyrna Beach! What? - You've never heard of it!

Well, that is not surprising to me. Many people haven't. As locals to the area, we like it that way. This is in fact the beach we use as our hometown beach, so if nobody else knew about it, my family would be happy. However, in order to be true to my site, I have to tell you about.


Location
New Smyrna Beach is located in the northern end of Central Florida. It is about 10 miles south of Daytona Beach, and 25 miles north of Cocoa Beach. It is also only about 45 miles from Disney. You would think with those famous cousins so close by that New Smyrna would be widely known as well, but because of the geography of the area, it isn't. There are some breaks caused by a river and an inlet that the roads have been routed around, so New Smyrna stays off to it's own.


Features
When you come here you will find over 13 miles of beautiful beaches, and I don't think that counts the area around Ponce Inlet. Consistently voted one of the "Best Beaches" by the locals, New Smyrna Beach lays claim to the best Florida offers--excellent backwater and offshore fishing, golf, historical sites, cultural events, and eclectic shopping and dining experiences. There is a state park at Ponce Inlet with a nearby Lighthouse that offers tours.
If you are a person who is all about the beach, don't worry, you are covered. This is a typical Atlantic Ocean beach just like Daytona & Cocoa – only without the huge crowds. The waves are great, and the northern end is often host to surfing contests. There are many great facilities available, with some beaches going above and beyond (see the video below about the 27th St public beach). As with Daytona, vehicles are even allowed on parts of the beach. This a feature that prevents the area beaches from being as beautiful as some of the Gulf beaches, but there is something cool to be said about having your vehicle mark your place on the beach.


Accommodations
New Smyrna is not a real touristy kind of beach. There are no true "resorts" there. It has more of a relaxing feel too it. Don't get me wrong there is plenty of larger condominium style accommodations for families and such, but there are also townhomes available right on the beach as well as Bed & Breakfasts. In fact, parts of New Smyrna possess a distinct hometown quality reflected in its old style architecture, lush tropic landscape and community. It is this down home air that makes this place a favorite to locals.
Well, now you have been told. If you, are ever there, say hello. I'll likely be around.





Return from New Smyrna Beach to GFVB Home